conpal LAN Crypt upgraded with key SGN features for key exchange and improved protection on removable media.
Sophos has announced the end-of-life of its Safeguard Enterprise (SGN) encryption solution for July 2023. To help customers migrate to a modern product, we are extending the functionality of conpal LAN Crypt. For example, functionality from the Sophos Safeguard Enterprise DX module will be available to our customers, too.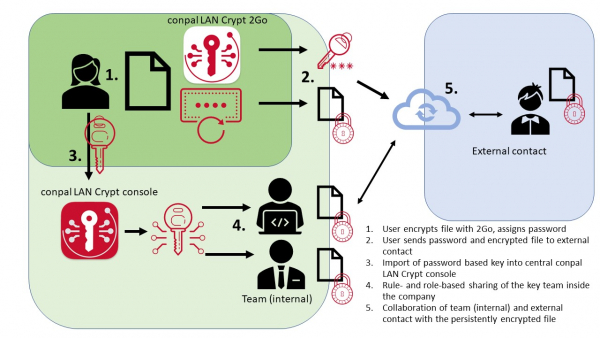 Import of on-demand generated keys for external communication
New options for importing keys will allow the integration of password-based keys generated using conpal LAN Crypt 2Go into the centrally administered enterprise encryption solution. This bridges the gap between external and internal communication, ensureing that all files remain securely encrypted, but can still be used by authorized users. Especially when working together in project teams with customers or partners, this makes it easier to uphold a high level of protection. Work processes do not need to be changed, employees can work with files that a colleague had encrypted on-demand. This implements a feature of Sophos Safeguard Enterprise.
Using this feature, it is also possible for two companies, both running a separate conpal LAN Crypt environment, to exchange keys with each other to securely share shared data. Especially in industries where collaboration along the value chain is of great importance, this feature brings great benefits
Better protection against malware: block plaintext files on removable media
conpal LAN Crypt will help companies to improve their protection against malware even more in the future. Often, removable media are a vector of attack by bringing infected files from outside directly to company computers. In the future, our enterprise encryption solution can be configured to prevent the opening of unencrypted files from removable media. This means that devices such as USB sticks and external hard drives can continue to be used to exchange files. At the same time, employees will only have access to data stored on these devices if it is internal company data: Only files encrypted with conpal LAN Crypt can be opened, and only company employees are able to save them. This way, protection against malware can be improved without sacrificing the functionality of removable media.
Both features are included in version 4.2 of conpal LAN Crypt, which will be available in spring 2023