The expansion of our enterprise encryption solution conpal LAN Crypt takes an important new step today. With the introduction of the client for macOS, users of Mac computers can now also exchange files in encrypted form – with each other as well as with users of Windows computers, iPhone, iPad, and Android end devices. conpal LAN Crypt thus covers another important platform. Organizations can now extend the reliable role-based protection provided by the suite to employees who rely on Mac computers for design work or CAD applications, to name just a few.
Straightforward roll-out, policy-based access management
IT administrators can easily deploy conpal LAN Crypt Client für macOS for macOS using an MDM/UEM solution. The assignment of access rights for each user by the security officer is rule-based. Directory services can be integrated, so that installation and configuration can be done within a very short time. The subsequent effort remains low as well, since key and policy management is automated. The solution is virtually invisible to the user.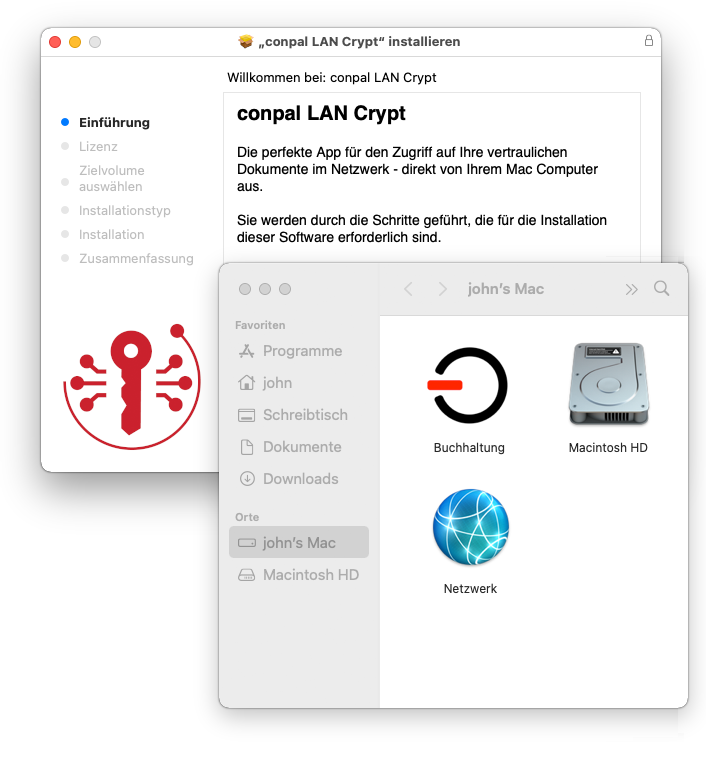 Requirements and functionality
The macOS client for conpal LAN Crypt allows in the current version 1.0 the automatic encryption and decryption of files of network directories. Keys and rules can be obtained from an existing conpal LAN Crypt infrastructure. Alternatively the use of smartcard-based keys is possible.
conpal LAN Crypt for macOS supports the operating systems macOS 11 (M1 & Intel), 10.15 or 10.14. It is available in a German and an English language version.
Proven use through joint development
conpal LAN Crypt for macOS emerged from a development project with an existing customer from the technology sector. Based on the requirements to extend the protection of conpal LAN Crypt to data on Mac computers, a four-digit number of clients is already in use.
Learn more in our product flyer: conpal LAN Crypt for macOS
Do you want to see conpal LAN Crypt in action? Register for the webinar "Cross-platform encryption of enterprise data on macOS, Windows, iPhone and Android (early session)" on 29.7.2021 at 8:00 GMT or the "late session" at 16:00 GMT:
Photo by Format on Pexels and Pexels on Pixabay