conpal LAN Crypt for macOS
conpal LAN Crypt for macOS allows the user secure access from a Mac computer to information that is encrypted with conpal LAN Crypt. The client component has been optimized for the typical macOS user requirements. Configuration is on the same basis as the other client platforms. The current version 3.0 of conpal LAN Crypt for macOS supports all common operating system versions up to and including masOS 12 "Monterey".
Just like conpal LAN Crypt for Windows, the data-centric encryption solution operates in the background, invisible to the user. conpal LAN Crypt for macOS is suitable for use in macOS client environments as well as in mixed client environments.
Numerous companies as well as economic and public administration organizations in Germany and throughout the world rely on conpal LAN Crypt. [Find out more]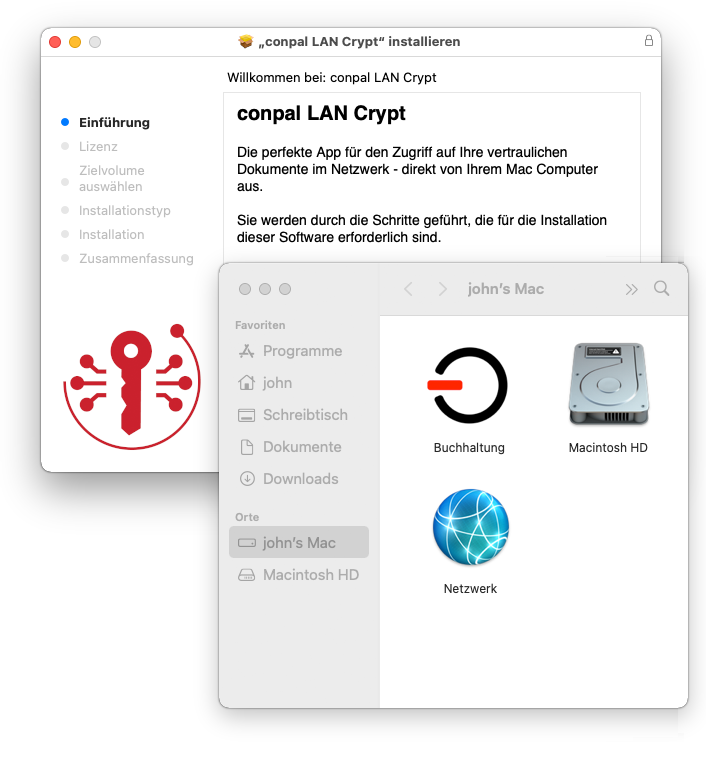 Here, you can find accompanying information about our conpal LAN Crypt product.
Google Drive is a cloud-based storage solution. It allows users to save files online, synchronize them across devices and access them anywhere from any computer, smartphone, or tablet. conpal LAN Crypt for macOS has integrated support for Google Drive, providing protection for data stored in the cloud. It uses the new File Provider API that Apple introduced specifically for integrating cloud storage into macOS. Seamless integration ensures that data is always encrypted before it leaves the endpoint and can't be accessed by anyone but you. Neither Google, conpal nor any other third party has access to your data, neither during transmission nor when stored in the cloud. Data Protection Notice